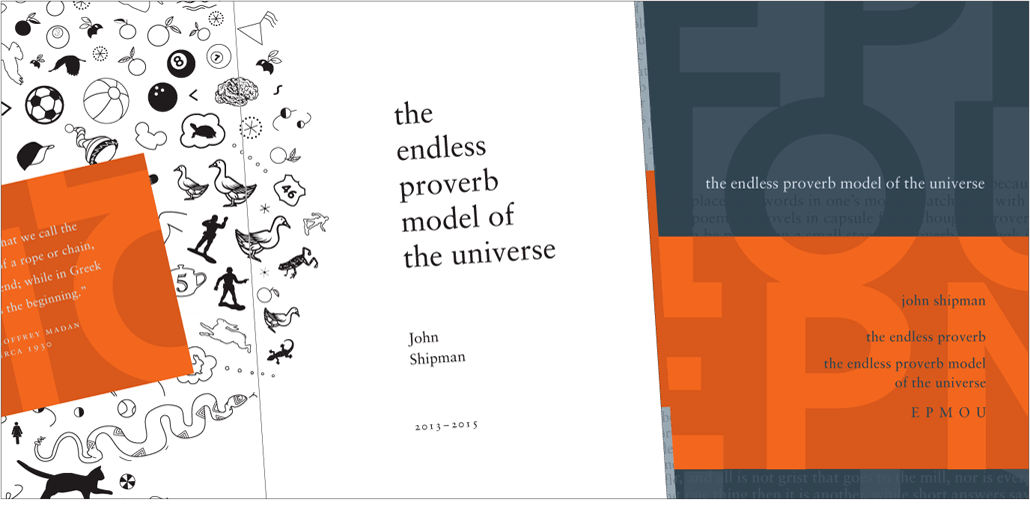 The Endless Proverb Model of the Universe · 2015
Odd that we call the end of a rope or chain, the end; while in Greek it is the beginning. — Geoffrey Madan
The Endless Proverb (the book) · 2013 – 2015
The Department of Household Sciences & Advanced Proverbs is pleased to announce the November 2015 publication of the 300-page, illustrated, limited-run soft cover print edition of The Endless Proverb by John Shipman.
Meaning and purpose, order and disorder, despair and wonder…
A 10,000 line, ten-hour long sentence constructed from proverbs from around the world, The Endless Proverb was part of John's Scotiabank Nuit Blanche Toronto 2013 independent project — Ten Models of the Universe presented by the Department of Household Sciences & Advanced Proverbs featuring The Endless Proverb (more info here).
One visitor commented, "I took two turns reading The Endless Proverb. Sometimes grim, sometimes hilarious, always thought-provoking and hypnotic. Thank you for creating such a unique and special experience."
« Impressive and beautifully done! »

For a quick look inside The Endless Proverb, download pages 32-33.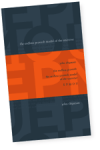 To reserve / order your copies, please contact John.
ISBN · 978-0-9939789-0-6
Softcover with bellyband dust jacket
First printing · November 2015
300 pages, illustrated
5.25 x 9 inches
Designed by Joy Shipman and printed by Bookmobile
Can the universe be more than we can imagine? — Edla Puff · 2015

Continuing conversations about the Universe

The Department of Household Sciences and Advanced Proverbs uses the methods of the kitchen, basement workshop, and backyard play to nourish human understanding through touching, hearing, tasting, seeing and making. Its mission is to continue to explore new models of the universe and to present (annually and free-of-charge) its most recent research in Toronto, Ontario. For more info, go to johnshipman.ca

Three great scientific theories of the structure of the universe are the molecular, the corpuscular and the atomic. A fourth affirms, with Haeckel, the condensation of precipitation of matter from ether — whose existence is proved by the condensation of precipitation. The present trend of scientific thought is toward the theory of ions. The ion differs from the molecule, the corpuscle and the atom in that it is an ion. A fifth theory is held by idiots, but it is doubtful if they know any more about the matter than the others. — Ambrose Bierce · 1911