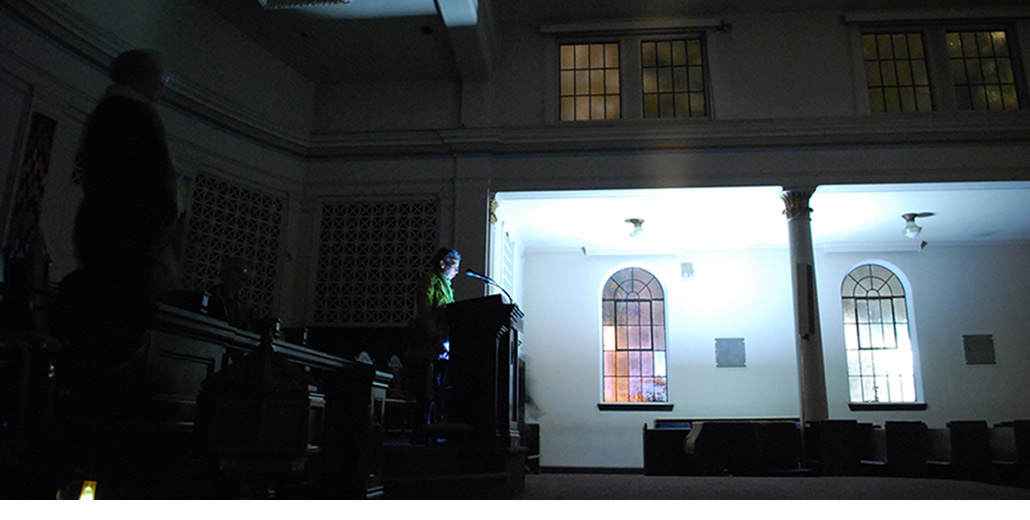 About John Shipman
John received the Ontario College of Art and Design University's Medal for Integrated Media in 2007, and his audio and video projects and large, collaborative installations have been shown in Toronto, Paris, Berlin, Madrid and the United States.
Recent installations & other projects
15000 Years of Housekeeping — John's 12th Independent Nuit Blanche Toronto Project presented on 30 September–1 October 2017 — explored the fundamental yet ordinary, daily tasks we share with others such as folding, stacking, listing, sorting, cleaning, mending, shelving, packing, planning, and measuring.
For a look back at Toronto's city-wide, international arts all-nighter, go to nbto.com.
For more about John's work, please go to johnshipman.ca
Photo · Marcelle St-Amant, Reading The Endless Proverb during Nuit Blanche Toronto 2013
Can the universe be more than we can imagine? — Edla Puff · 2015

Continuing conversations about the Universe

The Department of Household Sciences and Advanced Proverbs uses the methods of the kitchen, basement workshop, and backyard play to nourish human understanding through touching, hearing, tasting, seeing and making. Its mission is to continue to explore new models of the universe and to present (annually and free-of-charge) its most recent research in Toronto, Ontario. For more info, go to johnshipman.ca

Three great scientific theories of the structure of the universe are the molecular, the corpuscular and the atomic. A fourth affirms, with Haeckel, the condensation of precipitation of matter from ether — whose existence is proved by the condensation of precipitation. The present trend of scientific thought is toward the theory of ions. The ion differs from the molecule, the corpuscle and the atom in that it is an ion. A fifth theory is held by idiots, but it is doubtful if they know any more about the matter than the others. — Ambrose Bierce · 1911